Overview
This text-based CME activity provides guidance and expert recommendations on the initial diagnostic workup and therapy selection, as well as an overview of the latest data on recently approved and emerging therapeutic options for patients with B-cell non-Hodgkin lymphoma (NHL). Although recent treatment advances do not provide a cure, they do, however, provide longer remissions and improve patient outcomes. We invite you to learn more about the current standard of care, recently approved treatment options, including PI3K inhibitors, as well as safety and efficacy data from the select clinical trials.
Content Areas
Presentation and workup
Advancing the treatment paradigm
PI3K pathway inhibitors
Other select new therapy strategies for B-cell NHL
Target Audience
This activity was developed for hematologists/oncologists, hematologists, medical oncologists and other healthcare providers who care for patients with Non-Hodgkin Lymphoma (NHL).
This activity is supported by an independent educational grant from Bayer.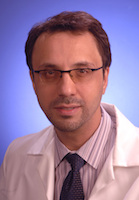 Constantin A. Dasanu, MD, PhD
Internist, Medical Hematology/Oncology Specialist
Cancer and Blood Institute
Lucy Curci Cancer Center
Eisenhower Health
Rancho Mirage, California