This course was last updated on
July 31, 2018
CME credit has expired.
//= $__courseRemotePath ?>
Overview
Soft tissue sarcomas (STS) are a diverse group of malignant tumors that occur throughout the soft tissues. Although rare, these sarcomas account for more than 12,000 new cases annually in the United States. The possibility of a sarcoma must be considered in the differential diagnosis of any suspicious mass.
This CME activity provides guidance through the initial diagnostic workup and reviews the latest data of new and emerging therapeutic options for advanced, metastatic STS. For best results, community-based oncologists are encouraged to partner with an academic center specializing in the management of sarcoma. These multidisciplinary teams, together with the community oncologist, can optimize treatment outcomes for their patients with STS.
Content Areas
Defining soft tissue sarcoma (STS)
Diagnosis and initial workup
Advanced STS therapy
Combination treatments
Second-line treatment
Future direction
This activity is supported by an independent educational grant from Eisai.
Faculty Reviewer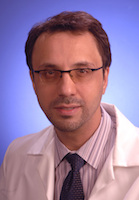 Constantin A. Dasanu, MD, PhD
Internist, Medical Hematology/Oncology Specialist
Cancer and Blood Institute
Lucy Curci Cancer Center
Eisenhower Health
Rancho Mirage, California
Enter your information to begin.
CME Credit
Available Credit:
0.75 AMA PRA Category 1 Credit™.
Opens:
July 31, 2018
Expires:
July 30, 2019
Target Audience:
Medical Oncologists
Surgical Oncologists
Gynecologic Oncologists
Radiation Oncologists
Pathologists
Obstetricians
Gynecologists
Other Physicians
Other Healthcare Providers