Overview
James Tauras, MD, provides his perspectives on issues related to the rapidly evolving pharmacologic management of chronic heart failure. Dr. Tauras emphasizes guideline-directed medical therapy as recommended in the 2017 ACC/AHA/HFSA Focused Update of the 2013 ACCF/AHA Guideline for the Management of Heart Failure, including the real-world use of ivabradine and sacubitril/valsartan. He discusses other issues intended to help improve the health outcomes, including reducing the 30-day readmission rate, of patients with heart failure.
Content Areas
Benefits of switching from ACE inhibitor or ARB to sacubitril/valsartan
Role of aldosterone receptor agonist in heart failure with preserved ejection fraction
Benefits of treating hypertension in heart failure
Role of B-type natriuretic peptide as a biomarker
Precautions when prescribing ivabradine, sacubitril/valsartan
Strategies for reducing hospital readmission
Target Audience
This activity was developed for cardiologists, primary care physicians, nurse practitioners, nurses and other health care professionals who have an interest in heart failure.
This activity is supported by an independent educational grant from Novartis Pharmaceuticals Corporation.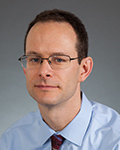 James M. Taurus, MD
Assistant Professor of Medicine
CCU Director
Weiler Hospital
Montefiore Medical Center
Bronx, New York